Biography of
Mother Therese of Jesus
Foundress of the Allentown Carmelite Monastery
Carmelite Nuns of the Ancient Observance
Coopersburg, PA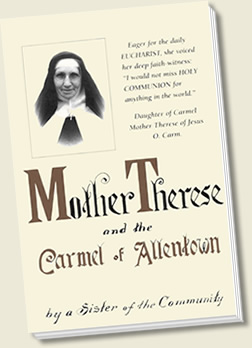 Those who would like to learn more about the Life of Mother Therese of Jesus, O. Carm. may do so by obtaining a copy of her Biography, which was written by a Sister of the Community.
The book is now out of print and there is limited quantity available. It is softcover, 217 pages, and includes many of the early foundation photos found on this website.
~ HOW TO ORDER THE BOOK ~
To obtain a copy of Mother Therese's Biography, please call or write to the Carmelite Nuns of Allentown at the address provided below (while supply lasts):

The cost of the book is $10.00, shipping included.
Carmelite Nuns
St. Therese's Valley
3551 Lanark Rd.
Coopersburg, PA 18036-9324
(610) 797-3721